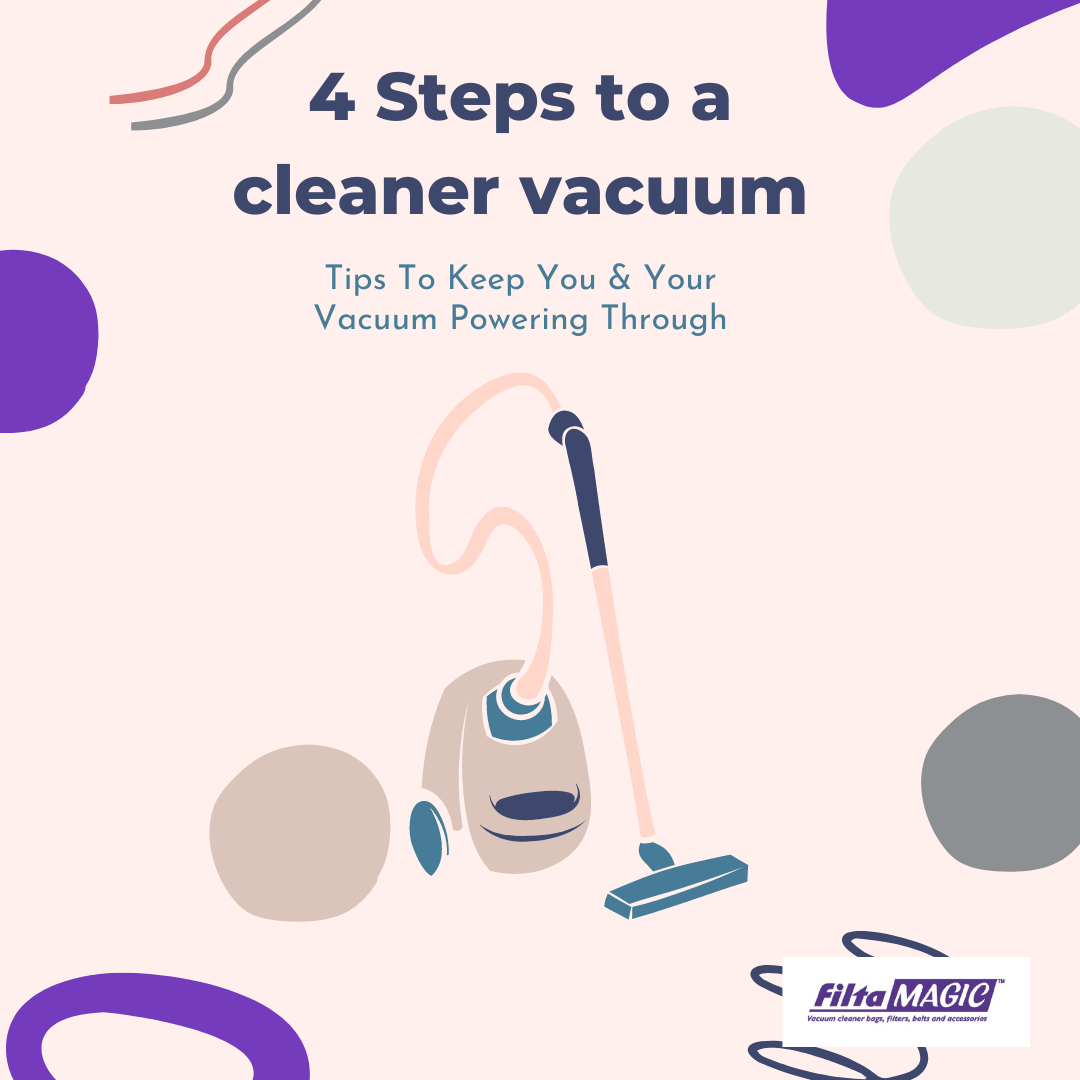 BEFORE YOU START YOUR SPRING CLEAN WHY NOT SPRING CLEAN YOUR VACUUM FIRST!
Guys, I bet you have never thought to clean your vacuum cleaner! After all, your vacuum cleans things, it doesn't need to be cleaned itself, right? Wrong! Keeping your vacuum cleaner clean makes sure it picks up efficiently saving you time and stops them from giving off musty smells or pet smells if you have one or two..
We guess you may have never cleaned your vacuum before, don't worry, we won't tell Mrs Hinch
Here we give you some simple steps to cleaning your vacuum cleaner. Make it part of your routine & stay ahead of the game with any vacuum cleaner problems.
Empty the bag or bin. This is an obvious one I guess, however when your vacuum isn't performing as well as it should, this is one of the first things to check, as you may have overlooked it. Replace bags or empty the dustbin regularly and you will definitely notice the difference in cleaning performance. FiltaMagic have a wide range of replacement vacuum bags for most makes of vacuum cleaner,

click here to find yours
Clean the brush roll or beater bar.If you have an upright or stick vacuum, one you push, that's the brush that spins under your vacuum. Once you locate it, unplug and remove the bottom plate and then remove the brush roll. It should just pull out of a slot on either end of the bar. Use your fingers to clean the bar, or use scissors to cut away hair, strings or ribbon. All that hair from you & your fur babies get caught up in there & make your vacuum less efficient.
Check the belt and replace it if needed.If you have an upright vacuum,to find the belt, remove the plates on the bottom of the vacuum (just like on the brush roll) and then feel the belt. It should be taut. If it is cracked, torn, melted, or just losing shape, it's time to replace it. Generally, the belt will need to be replaced every 6 months to 1 year. Follow manufacturer instructions for replacing the belt, or maybe give us a call, our friendly team can talk you through changing the belt on your vacuum. We offer a range of replacement belts for vacuum cleaners at FiltaMagic,

just click here to find yours
Replace or Clean filters. You will have at least one filter in your vacuum, you want to clean or replace them for maximum efficiency. If the filter is washable you can rinse it under warm water (dry it thoroughly before replacing). If it's paper or fabric, you can shake or tap it out over your bin to remove the dust and debris. All filters should be replaced every year. Need to change your vacuum cleaner filter, then FiltaMagic have a wide range of filters, suitable for all vacuum cleaners,

just click here to find yours
So keep the "Spring" in your spring clean with these handy tips & don't forget to share these vacuum cleaner tips with a friend who would find them helpful. Remember, if you need replacement belts, bags or filters, or if you are stuck, our friendly team at FiltaMagic are just a call away on 0870 745 3450 & we will be happy to help you get the right part for your vacuum cleaner
A cleaner home needs a cleaner vacuum
Don't forget guys to please follow us on Instagram @filtamagic & on Facebook FiltaMagic01 & if you leave a comment on there too, we will love you even more!
One last thing, our newsletter will be starting up soon, so if you want to hear first about offers, promotions & what's going on at FiltaMagic HQ, then please sign up for the newsletter below