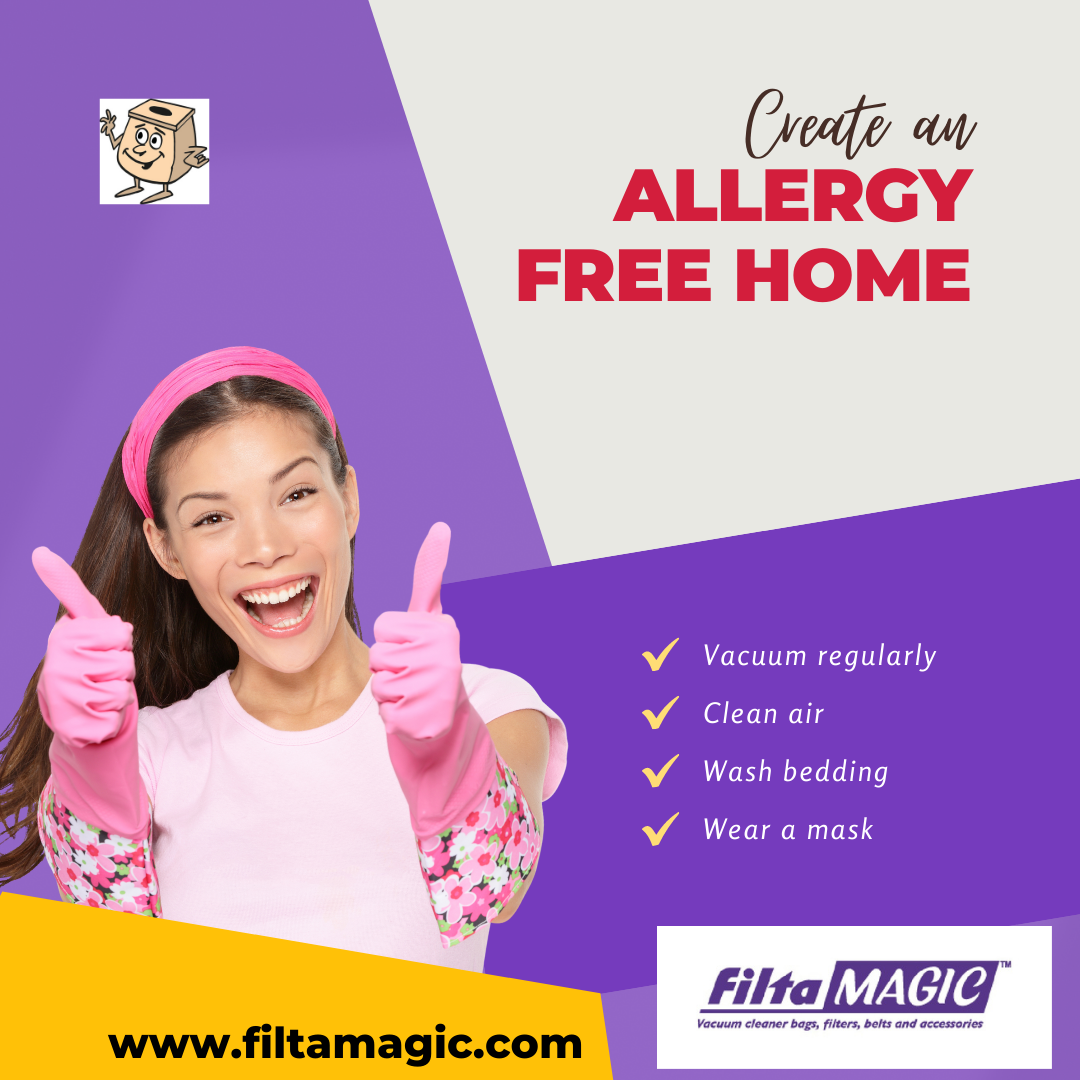 The sun is starting to poke through which means, allergy season is nearly upon us guys , and the first step in keeping allergies under control is living in as much of an allergen-free home as you can
It's possible with a few tweaks to your cleaning routine, see what you think of our tips towards creating an allergy free home.
Vacuum regularly
This one might seem obvious, but vacuuming is the best way to rid your home of dust and allergens. Letting mess pile up and hide in the nooks and crannies of your home will undoubtedly make your allergies worse, so it's best to not let it get to that point.
Vacuuming at least twice a week is a good start, but it's equally as important to use the right products. The most important features to look for are a power head, HEPA bags and/or a HEPA filter, which you can find at our store at the link below.
Power heads are designed to efficiently pick up dirt that's embedded in carpet fibres, rather than just cleaning the surface. High-Efficiency Particulate Air (HEPA) filters & bags trap around 99.95% of microscopic airborne particles in order to improve air quality. The combination of these two features is your best bet for effectively removing dust and allergens from your home.View our range of HEPA filters & bags here
Keep the air clean
Dust and allergens don't just settle on floors and furniture, they're also in the air that you're breathing. To keep the air in your home as clean as possible, invest in an air purifier or – for a money saving solution – take advantage of your vacuum's HEPA filter. After cleaning a room, leave your vacuum switched on ideally in "Eco mode" for a few minutes to filter any airborne particles
Wash your bedding regularly
Bad nights sleep? Could be a fit of allergies. Combat night-time sneezes by keeping your bedding clean and free of all the nasty things it collects, that we don't think about – dust, sweat and skin cells and dust mite come to mind.
Anything your body and face come into contact with should be kept as fresh as possible, so we recommend washing or changing your bedding at least once a week.
Don't forget about your mattress, either. Anti Allergy mattress covers are a great option, but while the sheets are in the wash, give your mattress a good vacuum using an upholstery tool to pick up any particles or dust mites.
Got any fur babies? Give their bedding the same treatment. Pet beds and blankets collect a lot of hair and dirt, wash them regularly to keep pet allergies under control.
Many hands make light work or wear a mask while you clean
If you share your home with others, try to divide housework. Give dustier jobs to someone else while you do the jobs that won't set off your allergies.Or protect yourself from dust while cleaning by wearing a mask- See our masks & PPE here
With these simple tips we hope that you will be able to achieve an allergy free home. Don't forget, if you need replacement belts, bags or filters, or if you are stuck, our friendly team at FiltaMagic are just a call away on 0870 745 3450 & we will be happy to help you get the right part for your vacuum cleaner
FiltaMagic your #1 choice for vacuum filters, bags belts & accessories
Don't forget guys to please follow us on Instagram here & on Facebook here & if you leave a comment on there, we will love you even more!
One last thing, our newsletter will be starting up soon, so if you want to hear first about offers, promotions & what's going on at FiltaMagic Manors, then please sign up for the newsletter here we really would appreciate it