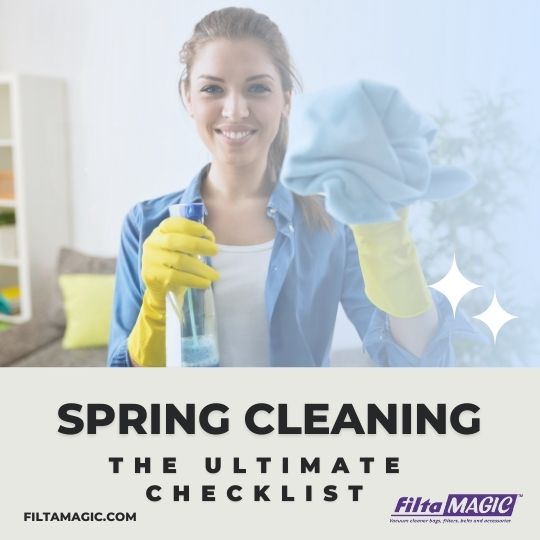 It's that time of year, spring cleaning time. The time to get rid of all the clutter,to get rid of the dust, mould, and mildew (yuk) that have piled up over the cold months.
According to experts, spring cleaning increases efficiency and energy levels. It also helps relieve tension, encourages concentration and makes you a happier person all-round.
Known as a season of renewal, spring is the best time to give yourself a fresh start and a new look at home. The sooner the cleaning tasks start and finish, the more ready you will be to enjoy the warmer season.
Where to Start Your Spring Cleaning
The best place to begin spring cleaning is entirely up to you. If you have been dying to tackle your kitchen cabinets for months, then get started there. The spring cleaning golden rule is to work from top-down. You wouldn't want to clean a surface or a certain room just to end up cleaning something above it which will make the surface or room dirty again. Nobody wants to dust furniture or shake rugs before wiping the ceiling lamp shades.
Tip: Most people don't make the most of their vacuum cleaner's features and accessories for above the floor cleaning-use the hose, extension tubes and dust brush to do high level dusting and cobwebbing!
We recommend you use a checklist that tells you how to get around your entire home. Room by room is a good way of keeping you on track and to prevent yourself from being overwhelmed. Below is a short guide, or checklist, for you to get started with your spring cleanup:
If it all seems a bit too much when you look at the whole house, you are more likely to achieve success by breaking down the Spring clean into smaller parts. Here's a rundown of how you can do a room-by-room spring cleaning for your house.
Checklist for Spring Cleaning Every Room

Light fittings & light bulbs

Clean light fittings, carefully use a vacuum cleaner with a dust brush to remove stubborn dust, or dust caught in the folds of a pleated shade. If you have high ceilings, maybe think about purchasing an extension tube for your vacuum, you can get one from our store here
Also take this opportunity to change the light bulbs to long lasting energy saving bulbs - better to do it now, than having a light fail in winter ( & like me, switch one from another appliance as you ran out of bulbs!)
Walls & ceilings
Dust the wall and ceiling corners for those pesky cobwebs. To get the job done, you can use a soft broom or better still, a soft brush on your vacuum cleaner. . FiltaMagic has just what you need with a handy vacuum cleaner crevice tool, shop our range of crevice attachments & tools here
Eliminate oil,food splatter and fingerprints using a solvent-free degreaser. Try testing the product in a small area to ensure it does not damage the walls.
Radiators-behind!!
Radiators trap a lot of dust in and behind them along with cobwebs, so if you are struggling to clean these hard to reach areas, FiltaMagic has just what you need with a selection of handy vacuum cleaner crevice tools, shop the range here
Our crevice tools are perfectly designed for cleaning those awkward areas around your home. You simply attach the crevice tool to either the hose or the wand of your vacuum cleaner and you will be able to clean every inch of your home with ease. What's more, this fantastic accessory is ideal for gaps between walls, furniture and tight corners.
Windows, curtains & blinds
Clean the windows, window sills.& each individual blind ( I know that's a pain, but when it's done, it's done!) You can also vacuum your curtains to remove any dust that won't shake out. Just use a stiffer bristle brush or upholstery tool attachment on your vacuum cleaner and give your curtains a quick vacuum from top to bottom. If you don't have one, check out the FiltaMagic range of vacuum brush attachments here
To start cleaning the windows, wait until there's no direct sunlight. Make a cleaning solution with one part hot water and one part white vinegar.
Wash the window frames by rubbing them with a cloth that is dampened with water and an all-purpose cleaner. Afterwards wipe off the solution with a clean water cloth, and thoroughly dry the frame.Wipe those pesky, but beautiful, blinds using a damp cloth & dry.
Shelves & "the dumping ground" AKA the coffee table
Dust the shelves & clear that coffee table - in my house the coffee table is a dumping ground for magazines, books, anything! Get it cleared, and chuck it - your partner really doesn't need that fishing magazine that's been there for a year! Remove from shelves and side tables books, knick-knacks and other things and get shot of all the dust. The best way to do this is to vacuum with a soft brush or use a microfiber cloth since it absorbs the dust rather than simply moving it all around.
Disinfect light switches, door knobs, and handles on your cabinets. Just spray a bit of multi-surface cleaner on a cleaning cloth and wipe every switch, knob, or handle. Dry them with a clean microfibre cloth afterwards.
Upholstery
If you are struggling to clean around your sofas & chairs or are concerned about damaging any of the covering fabric, FiltaMagic has just what you need with our range of universal upholstery tools, check them out here
With the upholstery tool attached to the end of your vacuum hose, you will be able to clean the dust and dirt from sofas, chairs, mattresses and cushions. Using an upholstery tool it's also perfect for helping you pull stubborn pet hair from your rugs and curtains fast and easy. With its compact size and flat head, your vacuum cleaner now has the ability to dislodge hair and dirt that lies tangled deep into your carpet.
With the help of FiltaMagic and our range of vacuum upholstery tools, available here, you can tackle a wide range of cleaning tasks more effectively and effortlessly!
Wardrobe - prepare a bag for the charity shop
Go through the wardrobe, clear the shelves and don't put back the items that you don't need or want, take it to the charity shop - trust me, you will feel good about it. Give all the shelves a proper wipe down and vacuum out the bottom where fluff and dust gathers at a surprising rate. You then have space for buying more clothes!
Floors
Clean spaces under the furniture using your vacuum cleaner. After having swept everything up above, move all of the sofas & chairs and clean the floor beneath them.
Be it carpet, hardwood, or vinyl floors, all of them require a thorough cleaning to remove dirt and germs deep down. You may vacuum your carpets & floors every week, but very often you're not likely to deep clean them.
Clean and sanitise floors using a steam mop. Steam mops heat water to release steam to dissolve dirt and microfibre cleaning pads collect the dirt. When used as directed, they also sanitise the floor.
They can also be used to refresh and lift some marks from carpets using the "carpet glider" tool, typically supplied with the mop. We have an extensive replacement microfibre mop pad range to choose from for all the leading steam mop brands like Bissell, Hoover, H2O, Shark, Vax - Click here to shop the range now.
Carpets can hold more than their own weight in dirt-if you let them! So if you want to remove more ingrained stains and dirt from carpets then for a deep clean you can use carpet cleaners sold by Bissell, Rug Doctor and Vax or bring in the specialists-Google commercial carpet cleaning services in your area.
Job done!
That's it! One really thorough clean & don't you feel good about yourself now! We know you love to keep your house spick & span throughout the year, we've seen all your amazing pictures, however, one really big clean in Spring, sets the standard & gives you ideas & thoughts on new colours, fixtures & soft furnings for your beautiful home
Don't forget, if you need replacement belts, bags or filters, or if you are stuck, our friendly team at FiltaMagic are just a call away on 0870 745 3450 & we will be happy to help you get the right part for your vacuum cleaner
FiltaMagic your #1 choice for vacuum filters, bags belts & accessories
Don't forget guys to please follow us on Instagram here & on Facebook here & if you leave a comment on there, we will love you even more!
One last thing, our newsletter will be starting up soon, so if you want to hear first about offers, promotions & what's going on at FiltaMagic Manors, then please sign up for the newsletter here we really would appreciate it